Combined Internal Medicine-Pediatrics Residency
Our Residency Program
The Combined Internal Medicine-Pediatrics (Med-Peds) Residency in the Department of Medicine aims to train highly-skilled, compassionate physicians from diverse backgrounds with expertise in the practice of internal medicine and pediatrics who become leaders in their chosen field and who care for all patients with cultural humility. UC San Diego provides an excellent academic atmosphere for balanced training in both medicine and pediatrics.
From Our Program Director, Lori Wan, M.D.
Thank you for your interest in the UC San Diego Combined Internal Medicine-Pediatrics Residency Program.
The goal of this residency program is to ensure balanced, comprehensive training in both internal medicine and pediatrics providing graduates competitive opportunities to pursue multiple career options or subspecialty fellowships.
About Our Program
From our Residents & Graduates: Why UC San Diego?
Meet some of our amazing residents and hear why UC San Diego Med-Peds is a great place to train!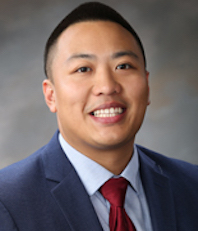 Michael Jew, PGY4
"After interviewing across the country, it became increasingly clear to me that UCSD was my top choice in residency programs. UCSD seemed to offer the best balance of comprehensive training in both internal medicine and pediatrics, a wonderful support system amongst residents and faculty, and the opportunity to serve a diverse and underserved patient population - all within the beautiful city of San Diego! My wife and I are grateful for the supportive and tight-knit family of co-residents, significant others (including our furry friends), and Med-Peds leadership here at UCSD!
Lauren Covert, 2020 Graduate
"Everyone is so approachable, supportive, hard-working, and has a great attitude — it really is a Med-Peds family I can rely on!"
How to Apply
We welcome your interest in our residency training program! Get more information about the application process.