Underserved Population
San Diego is home to a very diverse and medically underserved population that we care for at a variety of clinical sites.
San Diego County by the Numbers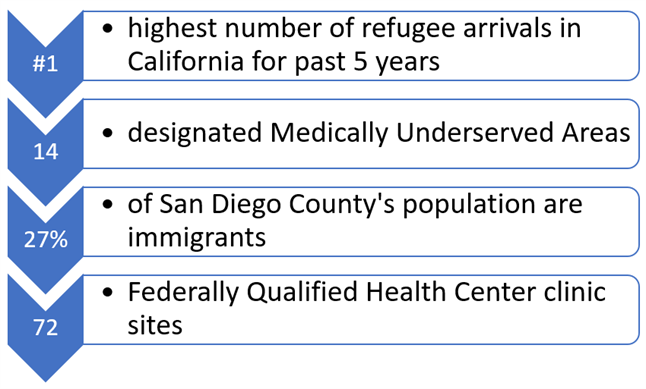 Underserved Patients We Care For
We care for a diverse group of underserved patients at a variety of sites - including a University-based facilty that serves as a community safety net hospital, a VA hospital, free-standing Children's hospital, Federally Qualified Health Center clinics, Student-Run Free clinics, Kaiser Permanente (a large HMO health system), Naval Medical Center, Tijuana clinic and more. See our Facilities page and Vimeo video for more information.

Refugees in San Diego County
In the past 2 years, California has welcomed the third-highest number of refugees in the country. Nearly 50% of these refugees arrive in San Diego each year, which traditionally has the highest number of refugee arrivals in the state.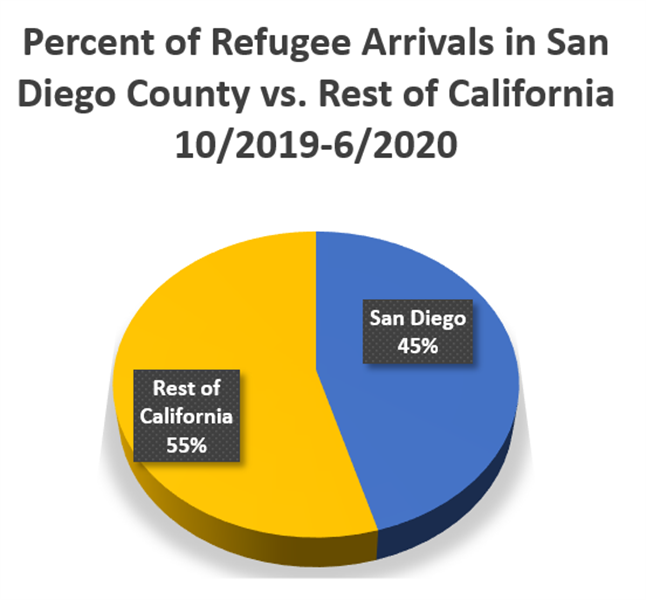 San Diego is home to a diverse group of refugees. In 2018-2019, refugees arrived from 34 countries. Here are some statistics on the countries with the highest representation: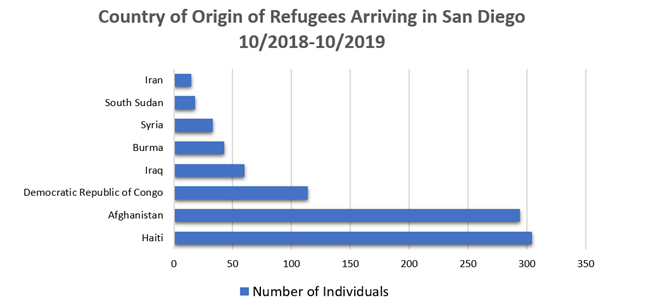 As a resident in the UCSD Med/Peds program, you will learn how to care for this diverse and underserved population with cultural humility alongside dedicated and experienced faculty. Our residents consistently rate the diverse patient population in San Diego as one of the top reasons they chose our program and consider it to be one of the program's greatest strengths!
Sources
San Diego County Department of Health and Human Services
US Department of Health and Human Services
US Health Resources and Services Administration: Medically Underserved Areas
California Department of Social Services
Worldwide Refugee Admissions Processing System
UC San Diego US Immigration Policy Center Report: Immigrant Integration in the City of San Diego