COVID-19 & Residency Training
The COVID-19 global pandemic created unprecedented times in clinical medicine. The UC San Diego Med-Peds Residency Program, along with our categorical programs, have maintained quality residency training and well-being despite the limitations and uncertainty COVID-19 has intermittently placed on our daily lives. Below are some adjustments that have been made during times of surge: 
Teaching Conferences
Teaching conferences have continued with the same schedule and, at times of viral surge, are either virtual or in small groups (<10 people with social distancing) at all sites. Resident computers have been fitted with cameras on wards to facilitate interaction during virtual educational meetings. When virtual, teaching conferences continue to have expert faculty discussants, outstanding case presentations, and interactive learning in the virtual format that includes breakout rooms, polls, chats and annotation. We continue to have our protected half-day of learning on Wednesday or Friday afternoons on both medicine and pediatrics during this period, which is converted to virtual in times of high viral spread. In addition, we have our monthly Med-Peds educational meetings in the evening, which are also converted to virtual format in times of high community spread. This is a great time not only for virtual learning in a smaller group setting but it is also a valued time to spend with your Med-Peds colleagues at the end of the day.
Program & Wellness Events
During surges in community spread, program events and most wellness activities have been required by health authorities or the university to be in a virtual format. However, our residents and program have found ways to make virtual meetings fun, including virtual cooking classes, happy hours, and themed business retreats!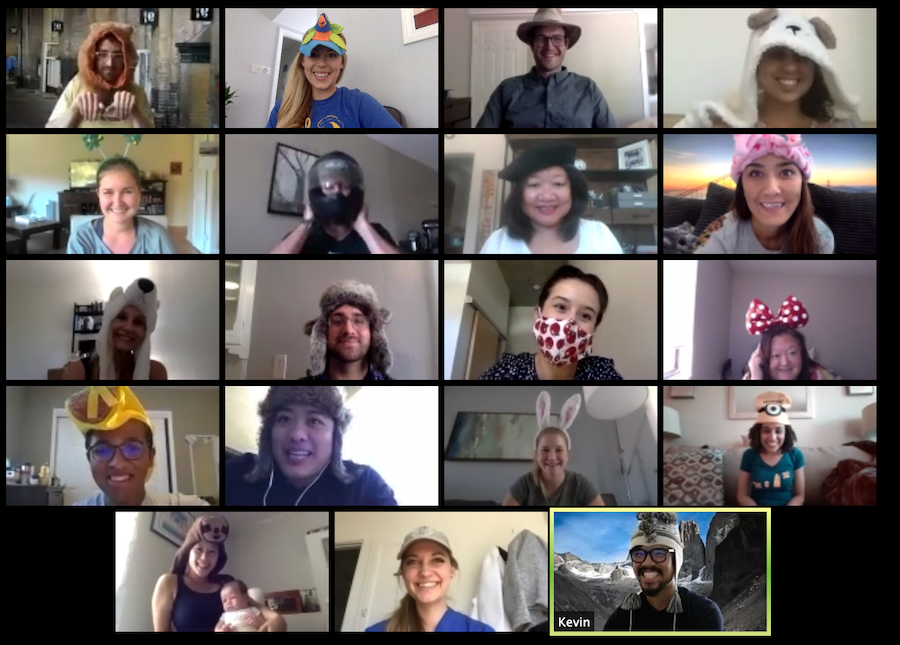 Virtual Med Peds Business Retreat 2020: Creative Headware Theme
Caring for Patients with COVID-19
San Diego, like most cities, has seen several surges in number of patients with COVID-19. Residents assist in caring for some of these patients as part of their training while following CDC guidelines, with full PPE (including PPE donning and doffing training), and faculty supervision. There is no shortage of PPE at UC San Diego Health or any of the affiliated sites, including the VA and Rady Children's. All patients are tested for SARS-CoV-2 on admission to any of our hospitals which typically results prior to exit from the Emergency Department, and there are fully staffed non-teach teams to assist in management of inpatients, including in the ICU when needed. The process for employee (including resident) testing in case of exposure is rapid and streamlined. Patients with COVID-19 make up a minority of inpatients on ward services, and residents continue to see a diverse amount of pathology and disease processes as part of their training, despite the pandemic.