Unique Educational Opportunities
An abundance of teaching conferences augments extensive hands-on education at UC San Diego.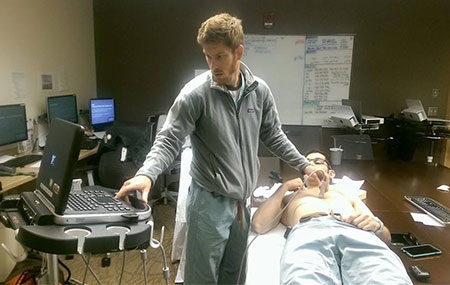 Internal Medicine (IM)
At UC San Diego Medical Center in Hillcrest and at the VA San Diego Healthcare System Medical Center, we have a variety of teaching conferences. The following teaching conferences are held at all sites:
Medicine Grand Rounds are held virtually once a week on Wednesday mornings, where faculty and housestaff join to hear speakers who are nationally recognized in their fields of expertise.
Noontime at Hillcrest and VA medical centers features an interactive, case-based didactic series for housestaff with an expert guest speaker in the field. Quality Improvement and Patient Safety (QIPS; formerly Morbidity and Mortality) conferences are held on Fridays.
Resident "Friday School" is a unique aspect of the internal medicine program and is a mandatory 2–4 hour block of protected time for teaching on Friday afternoons. Two of the four Fridays in a given month, all interns on inpatient rotations are excused for the afternoon to attend this didactic curriculum. For the residents on outpatient rotations, Friday School is held every week. Friday school topics are varied and include general medicine topics as well as innovative themes, such as bedside ultrasound (including an end-of-year exam on real patients on bedside ultrasound basics), teaching in medicine, business of medicine, wellness, and more.
Intern Report is held once weekly at both the VA Medical Center and the Hillcrest campus. This provides a low-stress environment for high-yield learning amongst our program's future residents.
Assorted other conferences and conference topics include Evidence-Based Medicine, where a resident presents a clinical question and their subsequent literature search in PICO format. The program also holds a Master Clinician Series approximately once per month. In this conference, the tables are turned as an attending is put on the spot and asked to work through a case. The attending is presented with piecemeal information about a case, and the residents learn as the attending "thinks out loud" and arrives at the diagnosis. Senior resident journal clubs are featured as well.
Ambulatory Care Conferences: In our medicine and medicine-pediatrics continuity clinics, residents go through an ambulatory curriculum on common outpatient topics and standards of care. These are done in a case format which is passed out a week in advance and then discussed with a faculty member during the continuity session each week.
Pediatrics
In pediatrics, Morning Report has been moved and is now combined with noon conference in order to allow for more teach time during morning rounds. These sessions are often case-based and complemented with an expert speaker following the presentation of the case. Evidence-Based Medicine topics are also presented during these teaching conferences. Once per month, Professor's Rounds is held during noon conference, in which faculty unravel an interesting, unknown mystery case in front of house staff. Morbidity and Mortality is also held once a month during noon conference.
Pediatrics Grand Rounds is held every Friday morning, attended by medical students, residents, fellows, faculty and community pediatricians. The conference series features a mix of UC San Diego faculty and invited faculty from around the country to speak on leading research and clinical practice themes from their respective fields.
Residents and interns attend "Resident School" one Friday per month. This is a protected afternoon session where all residents and interns are excused to learn about various topics in pediatrics, with interactive, case-based presentations led by pediatric hospitalist and subspecialist faculty.
On the Primary Care Clinic (PCC) rotation, outpatient lectures are given every morning.
Lastly, a Clinical Pathologic Correlate (CPC) case presentation is required of every senior resident as part of their scholarly activity and is a highlight in demonstrating a senior resident's critical thinking skills in their final year of training.
Pediatrics Conferences & Events
Medicine-Pediatrics
Once a month, all of the Medicine-Pediatrics residents meet together for a mandatory educational meeting with topics relevant to Med-Peds, including 4 journal clubs per year by our Med-Peds chief residents.
In addition, we attend community service activities and wellness events throughout the year. It is also a great time for all Medicine-Pediatrics residents to have a chance to interact with one another, the Internal Medicine-Pediatrics program director, and associate program director.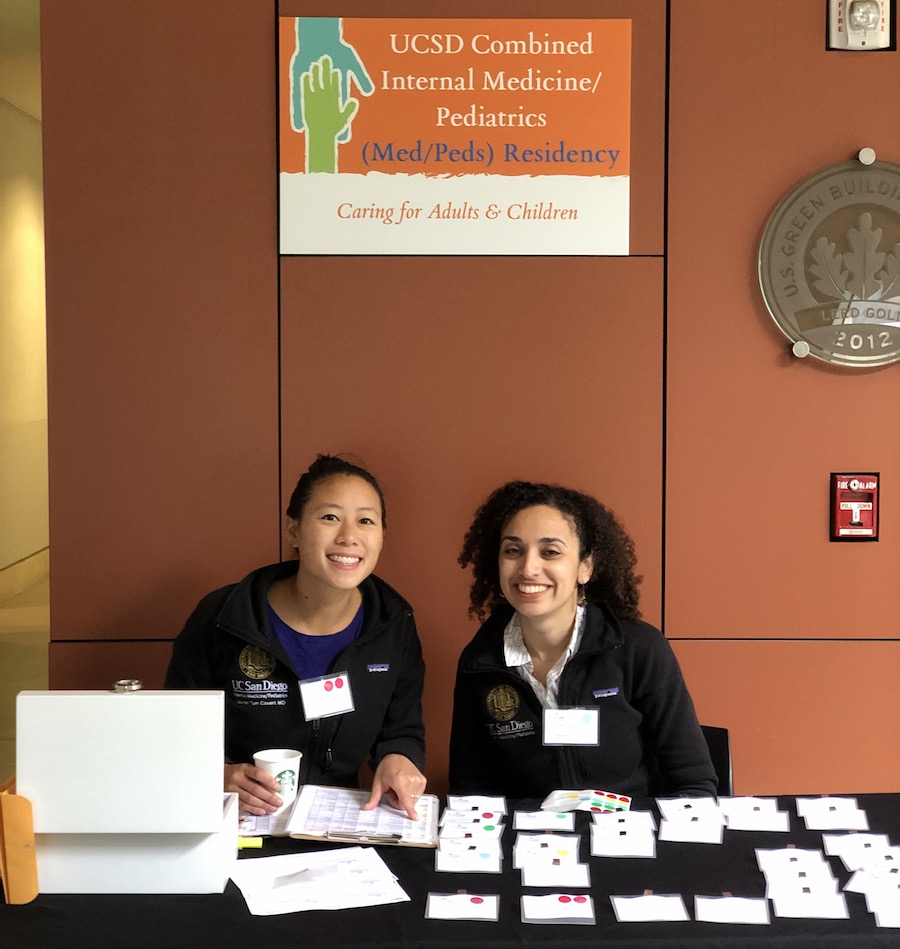 Medicine-Pediatrics & Pediatrics
Innovative Quality Improvement Research in Residency (INQUIRY) Program
The Innovative Quality Improvement Research in Residency (INQUIRY) Program is an innovative quality improvement (QI) seminar series that is offered in the evenings several times a year. All Med-Peds and Peds residents are required to complete this training. A QI project is also required to be completed to demonstrate understanding of the skills learned for quality improvement. QI is a life-long skill that is important to learn as part of any medical practice and for maintenance of board certification.
Upon completion of this QI seminar series, residents are given a certificate of completion in QI education that can be valuable when applying for hospital privileges after residency.