Clinical Rotations Overview
At UC San Diego, we have developed a 4-year curriculum that not only meets the guidelines set forth by the ACGME to ensure comprehensive combined medicine-pediatrics training, but also has built-in flexibility in the 3rd- and 4th-year schedules to allow more elective time to pursue career-oriented interests. The academic year is divided into 13 four-week blocks. While 1 block is reserved for vacation, the remaining 12 blocks are evenly split between internal medicine and pediatrics. Switching between internal medicine and pediatrics occurs every 3 months.
The standard internship lasts 12 months. There are no repeated intern-level rotations.
Inpatient Rotations
Internal Medicine
Internal medicine inpatient ward and ICU rotations occur at UC San Diego Medical Center in Hillcrest and the VA San Diego Healthcare System Medical Center. At both hospitals, the ward team is led by the supervisory upper-level resident (PGY-2 or higher) along with two interns, often a sub-intern and two to three medical students. Each team has a dedicated full-time hospitalist faculty for both general and subspecialty medicine cases. When the service is not busy, resident teams are invited - but not required - to participate in the care of patients traveling nationally and internationally to receive specialized procedures, such as pulmonary thromboendarterectomy and fiberoptic bronchoscopic laser surgery. This system enhances exposure to world-famous sub-specialists working at UC San Diego. Occasionally, a sub-specialist or general internal medicine faculty will attend on one of the ward teams at each of the hospitals, which has been favorably received by housestaff as this provides a different perspective in management than from hospitalist-only faculty.
At UC San Diego Medical Center in Hillcrest, there are five traditional teaching teams, one resident-only teach team, and one non-teach team. Teaching teams are capped at 16 patients to optimize learning. Teams alternate admitting days, and the nonteach attending holds the admission pager during rounds so teams may round uninterrupted. In the evening, a night team consisting of one resident and one intern take over admissions with a cap of eight patients, and share admissions with the nocturnist on call. A separate night float intern cross-covers on the established patients in the hospital. These new night-time admissions are then distributed to the day teams in the morning in a thorough, safe hand-off process.
The VA Medical Center functions similarly to Hillcrest wards, but has five teaching teams (4 traditional teach teams with a resident and two interns, and one teach team with two R2 or R3 residents) that also alternate admissions on a shift day-time basis. In the evening, a night float intern covers established patients, and a resident and intern admitting team cover nocturnal admission. There is also a robust nonteach team for overflow patients. At both inpatient ward locations, there is always an in-house hospitalist attending and ER attending for immediate supervision and back-up.
At UC San Diego Medical Center in Hillcrest, the MICU service is well staffed with multiple residents and interns. Twenty-four hour call is approximately every 5-7 nights for interns and residents. Owing to the nature of intensive care, the ICU team admits 24 hours a day with 24/7 dedicated fellow and attending back up.
Sulpizio Cardiovascular Center at UC San Diego Health, located in La Jolla near the VA Medical Center, contains impressive state-of-the art technology, facilities and world-renowned faculty. Opened in August 2011, the Sulpizio Cardiovascular Center was San Diego County's first dedicated cardiovascular center. The facility unites leaders in cardiovascular medicine, cardiothoracic surgery, pulmonary vascular medicine, vascular surgery, cardiovascular imaging and cardiovascular research.
Sulpizio Cardiovascular Center offers a unique cardiology inpatient experience for house officers. The house officer team consists of primarily cardiology patients who are inpatient ward level of care with a limit of five additional patients in the critical care unit (i.e., acute STEMI, intra-aortic balloon pump, etc). This offers an enriched experience in cardiology, seeing patients in different stages of acuity. In addition, there are electives available in both inpatient and outpatient congestive heart failure and cardiomyopathy led by world-renowned specialists at Sulpizio Cardiovascular Center, which offer additional depth of training in cardiology.
Pediatrics
Rady Children's Hospital San Diego (RCHSD) provides premier care for all pediatric patients within the greater San Diego area. At Rady Children's Hospital, there are four teaching teams. Three of the teams have a traditional structure with a senior (R3 or R4) resident, two interns, and two to three medical students. The fourth team is the "resitern" team, comprised of two categorical pediatrics or medicine-pediatrics R2 residents and a hospitalist attending. The R2 residents function independently with no junior residents, with the purpose of improving their pediatric skills and developing independent thinking and management. They also supervise and teach 2-3 medical students on the team. Interns and R2 residents carry a maximum of 10 patients each on wards. Approximately 50-75% of patients are cared for by the resident teams in conjunction with dedicated general pediatric hospitalists who are assigned to a specific team for rounds and teaching. Each team also has a sub-specialty theme with 25-50% of the patients being cared for along with sub-specialty attending physicians from that division.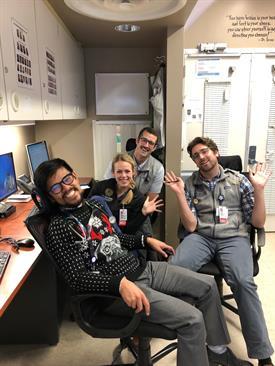 The 4 teams each cover a certain subspecialty(ies) in addition to the general pediatric patients. We designate each team with a certain color. Red team covers neurology and endocrinology patients; yellow covers nephrology and Kawasaki disease patients; green covers gastroenterology patients and blue covers pulmonary patients. (Hematology-oncology patients, including bone marrow transplant patients, are cared for by a separate team that residents rotate through.) There is a separate night rotation which is covered by one R3 or R4 resident, one mid-level resident (R2) and two interns. The night team transfers patients to the various teams in the morning. A senior resident, endearingly nicknamed the "mole," does cross-coverage at night on established patients and supervises and teaches a junior resident on the art of night cross-cover, called the "mini-mole". The "mini-mole" is an R2 pediatrics or med-peds resident who provides night cross-coverage alongside the "mole" resident.
During the 4 years of training, chief residents ensure that residents are assigned to all four colored teams at least once so that residents have exposure to all the inpatient subspecialties.
NICU training is located in UC San Diego Jacobs Medical Center in La Jolla in the Level III nursery, providing comprehensive training in complex neonatal care (this is done at UCSD rather than Rady to allow residents to attend deliveries, but residents have the option to do an elective in the NICU at Rady's). PICU training is done at Rady Children's Hospital, which is a Level I Trauma Center for all pediatric cases within San Diego. The 24-bed PICU also exists alongside a 30-bed Acute Cardiac Unit dedicated to postoperative care of congenital heart disorders. At the UC San Diego Medical Center NICU and RCHSD PICU, a fellow is in house 24/7 with the resident. In the NICU, the residents rotate on a day/night shift system with three weeks on day-shift and one week on night shift during a four-week rotation, with no 24 hour call. The PICU is done as a PGY3: residents take 3-4 24-hour calls during their month of service as well as a week of night call (4p to midnight).
Ambulatory/Subspecialty Clinics
The practice of medicine has changed dramatically over the last 20 years, such that increasingly complex medical problems are being managed in the outpatient arena. Moreover, approximately 75% of all medicine-pediatrics graduates nationally enter primary care, making exposure to ambulatory care critically important in our residency. UC San Diego is remarkable among academic programs for its recognition and fulfillment of this need by stressing the importance of continuity clinic experiences and by providing ample opportunities for ambulatory and elective experience in both internal medicine and pediatrics.
On pediatrics, two months of the intern year are completely dedicated to primary care. One of these months takes place at North Park Family Health Centers, a federally-qualified health center. During this rotation, residents have the opportunity to work with an underserved patient population, including a large refugee population. Interns and residents also rotate through the academic pediatrics clinic, UCSD Pediatrics, as well as the Navy health system for adolescent medicine throughout their training.
On internal medicine, residents rotate through UCSD and VA primary and subspecialty care clinics, and also have the opportunity to rotate through community sites, such as FQHC clinic sites and Kaiser.
With an extensive choice of electives, graduates are assured a well-rounded education with enough exposure to subspecialists to comfortably apply these skills once they are practicing in the community or to decide whether to pursue a subspecialty fellowship. Below is a list of some of the ambulatory and subspecialty rotations offered at UC San Diego:
Medicine:
Allergy/Immunology
Cardiology
Endocrinology
Dermatology
Gastroenterology
Geriatrics
Hematology/Oncology
Infectious Disease
Nephrology
Neurology
Pulmonary
Rheumatology
Musculoskeletal/Orthopedics clinics
Women's Health and Men's Health
HIV Clinic
Surgical Specialties (ENT, Urology)
Obesity
Underserved Medicine
Correctional Medicine
Pediatrics:
Allergy/Immunology
Cardiology
Endocrinology
Dermatology
Gastroenterology
Genetics/Dysmorphology
Hematology/Oncology
Infectious Disease
Nephrology
Neurology
Pulmonary
Rheumatology
Sports Medicine/Orthopedics
Adolescent Medicine
Anesthesia
ENT
Ophthalmology
Radiology
Toxicology
In addition to the standard experiences, residents are encouraged to create their own electives to further tailor their education. Electives in transitional care are available.
International Health and Research Opportunities
International Health and Research Electives
Global Medicine Elective Rotation in Mozambique
UC San Diego medicine-pediatrics residents can take part in the global medicine Mozambique elective offered by the Department of Medicine. Residents travel during a four-week block to Mozambique, where they work alongside local internal medicine residents at the major teaching hospital in the capital of Mozambique, Maputo. If interested, residents also have the opportunity to extend this elective to an eight-week rotation in which they are asked to participate in an ongoing research project. Housing, visa and vaccinations are all paid for by the Department of Medicine.
There is also an established 1 month exchange rotation through the pediatrics program in Guadalajara, Mexico. Residents can spend 1 month in Guadalajara working alongside local pediatrics residents, who also spend time rotating through Rady Children's in San Diego. There is a monthly teleconference with residents in Guadalajara as well.
International Health Collective (IHC) Free Clinic
This is an established clinic in the eastern region of Tijuana, Mexico, run by a student-led organization; this clinic provides high quality healthcare services to the underserved communities of Tijuana. This clinic is held on the first Saturday of each month, and is staffed by UCSD attendings, residents, medical students, and undergraduates. For more information about the organization visit International Health Collective.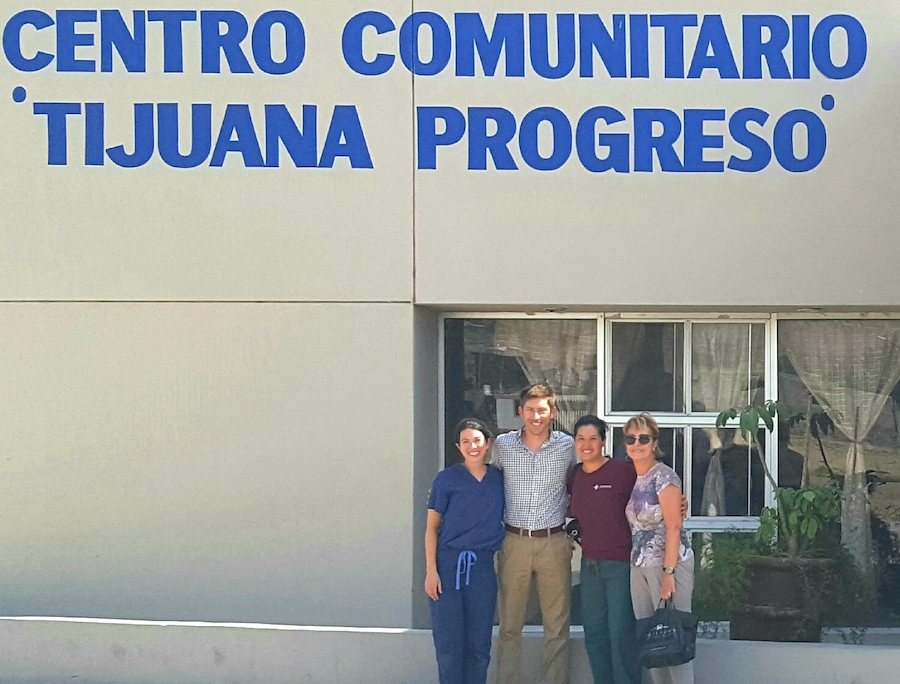 UC San Diego Global Health Rotation
Another elective opportunity for UC San Diego medicine-pediatrics residents is to explore global health topics on a local level. The Department of Pediatrics offers a "Think Globally, Act Locally" global health elective, which includes attending several clinics in Tijuana, Mexico as well as throughout San Diego county for a local global health experience. (The Mexico border is approximately a 25 minute drive from Rady Children's Hospital.)
Other Away (Including International) or Research Electives
Residents are allowed one month of either research or clinical away electives each while on medicine and pediatrics (total of two months over four years). These research or elective months should have specific goals and objectives which are individually approved by the program director and faculty mentor. Most residents take advantage of these opportunities in their third and fourth year of residency. UC San Diego encourages residents to use these opportunities to explore different career interests. The Global elective rotations described above are one way to achieve this, but interested residents may still arrange their own rotations elsewhere. Several residents have created international health rotations to places such as Egypt, Uganda, Kenya, Saipan, Haiti, New Zealand, Costa Rica, Chile and Honduras.
Research opportunities are abundant at UC San Diego, whether clinical, translational or basic science research. Many faculty are eager to be research mentors to our residents.